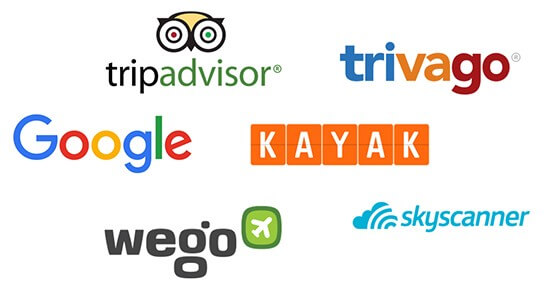 There is no question that OTAs are beneficial for all hotels. They offer brand awareness, credibility and instant reach to a huge captive audience.
NB: This is an article from Catala Consulting
However, commission rates are typically between 15-30%. In comparison, direct bookings secured through Google's pay per stay model cost 10-15%. Hotel metasearch therefore represents a huge opportunity to increase your profitability. But how do you make sure it's successful for your hotel?
Choose Your Channels 
Hotel metasearch engines come in various forms. TripAdvisor generates a huge amount of traffic each month, but that includes locals checking restaurant reviews and day trippers planning activities. Kayak is popular as a complete trip planning tool, but that means a large proportion of visitors will be looking for cars, flights and travel insurance. Traffic does not necessarily mean bookings, so you'll need to test and learn to find the best options for your hotel. 
Subscribe to our weekly newsletter and stay up to date
Know Your Audience
Similarly, each metasearch engine has nuances when it comes to customer demographics. Established brands like Trivago invest in large scale TV advertising campaigns. This makes them seem more credible to older affluent audiences. On the other hand, young people looking for discounted prices may be happy to take advantage of lesser known platforms. Your chosen channel should match your target audiences. 
Don't Compete With OTAs. 
It's no secret that OTAs have huge marketing budgets. Advertising on metasearch engines works like an auction, meaning you aren't likely to outbid OTAs for top spot. Rather than trying to compete directly, you can offer lower rates, added value and more flexible booking options. Over time, attracting more clicks on your direct listing will move you up the list. Some platforms, like Google, offer 'official site' badges, which also helps your hotel stand out. 
Use the Right Technology Stack
Without the right software in place, you won't be able to optimize your performance. In fact, with many hotel metasearch engines, you won't even be able to get started. Their entire offer is based on accurate real-time data, so you'll need a booking engine or PMS to provide your pricing and availability. Next, you should consider a channel manager. This will allow you to coordinate your inventory across all of your online distribution channels. Finally, to take your revenue management to the next level, we highly recommend using revenue management software. For a complete guide to the best revenue management tools for your hotel, please see our recent blog here. 
Optimize Your Website
Unlike using OTAs, metasearch bookings are completed on your hotel website. That puts a lot of pressure on your team to ensure the site is performing as well as possible. It needs to be beautifully designed, easy to use and focused on conversions. With more than 40% of visits coming through mobile, you need to ensure it loads quickly and works flawless on all devices. You should also use specific landing pages for different platforms, room types and audiences. 
Enhance Your Listings
With hotel metasearch you need to stand out among the other hotels before you bid against OTAs. Make sure you do everything possible to optimize your listing on each platform. Promote your key USPs, upload professional photos and videos, keep content fresh and up to date. Most importantly, focus on review management. Encourage guests to share positive experiences (within the rules of each platform) and address any common complaints.
Consider Your Pricing Strategy
From energy to insurance, a lot of us use metasearch (or comparison sites) to find the best deals. Room rates play a huge role in the success of your hotel metasearch campaigns. However, don't be tempted to enter a race to the bottom. A best rate guarantee is a great selling point, but you should also consider added value and improved booking terms. Metasearch engines also rely on providing accurate real time data. Maintaining rate integrity is essential to optimize your performance – and nothing will damage your credibility more than advertised rates not matching your website.
Read more articles from Catala Consulting
The post How to Use Hotel Metasearch to Increase Direct Bookings appeared first on Revenue Hub.